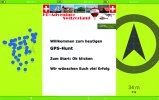 "GPS Hunt©– much more than just a treasure hunt".

Instead of maps and paperwork teams will be equipped with new Android based Tabs with GPS.
GPS-Hunt© combines the excitement and fun of an outdoor treasure hunt with modern communications technology. Instead of the old-style treasure map the participating teams are equipped with actual Android Tablets.
Consequently, GPS-Hunt© events can take place locally, or, thanks to the possibilities of mobile communications, regionally or even nationally, among physically spread out teams. Through a series of different game stages or tasks, the participating teams, each equipped with Tablets will be looking for predetermined objects such as buildings, locations or persons with the objective to answer various type of questions and solve different clues. The aim is to get as many point as possible within a given time - Pure fun.

Specially designed for company and team events, GPS-Hunt© by HB-Adventure Switzerland is the modern version of the classical Treasure Hunt game, adapted to the 21st century. It's a fun, competitive and entertaining event package for groups from 20 to 200 persons. GPS-Hunt© events can be easily tailored according to the requirements and preferences of our customers.
GPS-Hunt©
After the briefing and understanding the mission goal teams will first do a training exercise to get familiar using the Tablets. Briefing and training will take about 30 minutes.Depending on the GPS Hunt version, the teams will start going into different directions looking for first mission. Upon approval at first mission the unit will display the allocated challenge. When the challenge question is answered correctly the entire list of available tasks will be displayed. Depending on task difficulty level the more points can be achieved. The goal is to get more points than the other teams.
Game Master
The Game master can always be contacted using the emergency button. In case a team get lost or has a problem the game master might help.
Final Target
Normally the final target is located at or close to a Restaurant where a debriefing, price giving takes place. This can also be the place where cocktails and lunch or dinner will be served.
Traffic
From stage to stage, the teams are moving by hiking or using public transportation.
Equipment
Each team will be equipped with a modern Android Tablet.
Teams
A team consists between 1 and about 8 Persons. For a group of 150 persons we suggest to plan 20 teams.
Required time
A GPS Hunt will take about 3 hours of active game time. A pre event briefing will take about 30 minutes, a post event price giving and cocktails another 30 minutes. Plan an overall time of 3 ½ to 4 hours.
Pricing Standard GPS Hunts
Standard GPS-Hunts are available in Zürich, Rapperswil, Baden, Basel and Winterthur. More destinations to come. Standard hunts take between 90 and 180 minutes.
4 Teams CHF 1,900.00
Each additional team: CHF 400.00
(Price excluding 8.00 % VAT/Mwst)
Price does include planning, organisation and operation of the Hunt, Tablets will be provided.

Pricing individual Hunts
Individual tailor made Hunts are available whereever you want. Ask for a quote.
---
Just send an e-mail with your inquiry: